delaney
A four colored scarf of luxurious waves of cashmere in eye catching colors that softly surround the face. The eyelet closure located at the neck allows you to thread the scarf through offering easily styling for a snug, soft fit.
100% cashmere, approx. 9"w x 26"l
$160.00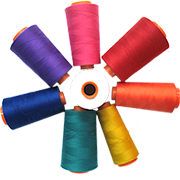 Shop by Color
Colors
Russett 7013
Elsa 6317
Pomegranate 5819
Hot Tulips 6506
Tangerine Juice 6047
Figurine 6542
Sunny Skies 7125
Pagoda 6511
Festive Carousel 6519
Serpentine 6521
Arabesque 6518
Holly 6528
Matisse Orchid 6409
Hockney Field 6405
Midnight Constellation 6530
Klein 6516
Hickory 5802
Papillion 6036
Dogwood 7042
Soft Isfahan 6533
Hazelnut 6523
Fragrant Cloud 7052
White 5513
Black 4934
Colors may vary due to variation in monitors. Yarn swatches available upon request for a nominal fee.
Each scarf is hand crafted with nature-inspired tactile fibers that may have subtle variances.